Forest officials rescue crocodile in Bijnor
By ANI
Saturday, October 9, 2010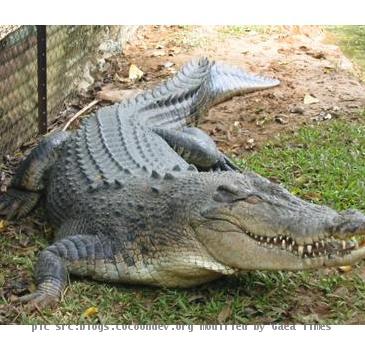 BIJNOR - Forest officials in Uttar Pradesh's Bijnor city conducted a rescue operation to rescue a crocodile that had entered a local police station.
A police inspector Raja Mohan in Nagal police station recounted the episode.
"After completing his duty, our constable, Surender, was walking towards his room. He was about to step on the crocodile when he noticed that it was lying near his room and then he shouted," said Mohan.
"We heard him and came for his help. The crocodile then entered his room, and we locked the room from outside," he added.
The crocodile was rescued by forest rangers and they released him in the River Ganga.
"This crocodile is almost six-feet-long and it weighs around 60 to 65 kilograms. The crocodile was in a very drowsy condition when we captured him and now we have released it in the Ganga," said Devi Prasad, a forest ranger.
Prasad also said many crocodiles have been sighted in various small ponds and lakes of Bijnor District after being displaced by the floods. By Sarafaraz (ANI)